Why Us
Reputation
Our reputation is a result of our expertise and ability to deliver. We are known for taking on critical cases and finding victory for our clients. The proof? We get at least 30 referrals a month.
We are proud to have a reputation for being one of the best migration services in Australia, as evidenced by our many referrals and returning clients. We don't just get referrals from our clients, we get referrals from other migration agents too.
Our team doesn't just work on regular cases, but we find a pathway for those who appear to have no options left. Take for example our client, Divya Tyagi, who visited countless migration agents before she found us. Now she is a permanent resident and we are currently processing another visa for her family. Her story isn't the only one.
Read: No One Else Could Help – Divya's Story
Sometimes we step into the fighting ring for our clients because we believe that we should do our utmost for each and every person we meet. Want to know why? (link to about the team)
Our Managing Director, Karl Konrad, has appeared in a number of media stories. Most recently, we were featured in 'The Australian', one of the most credible and largest in the news industry, for pushing for the rights of an international student, Anupamdeep Kaur. A flawed international student policy had resulted in her unfairly being denied a refund of her course fees. The story had a good outcome; she was given a full refund under 2 months from our first meeting with her.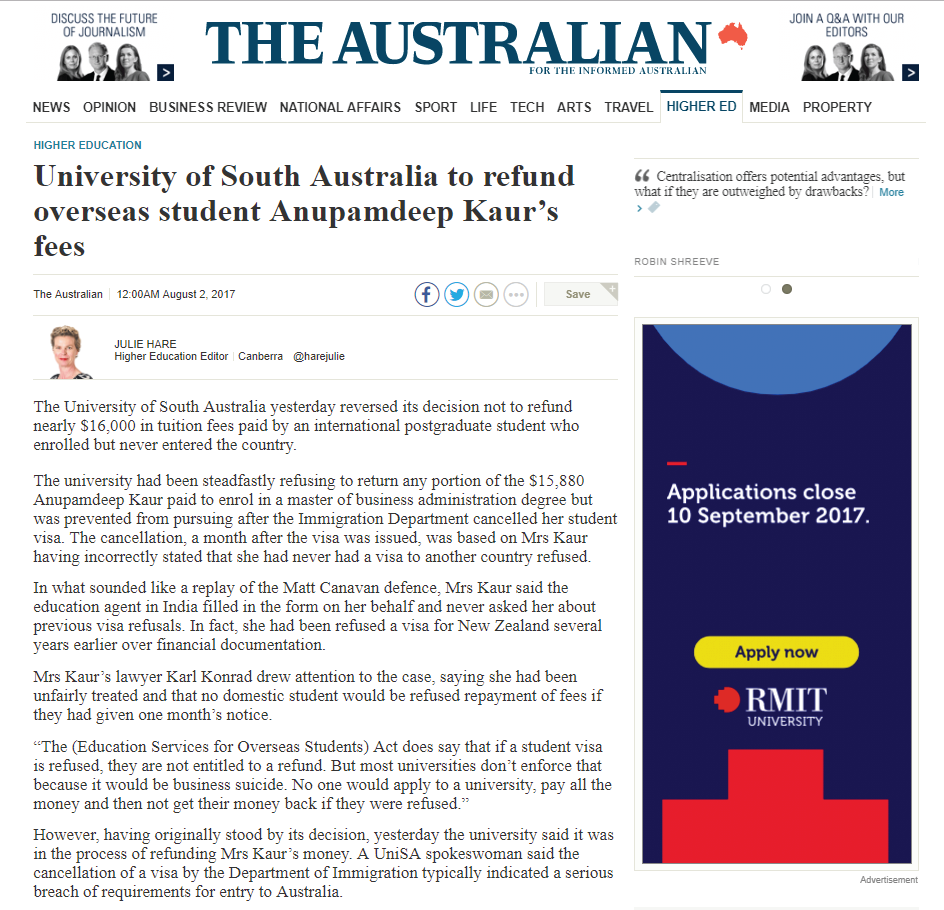 We aren't just good at what we do, we the leading authority on immigration cases. Our greatest responsibility is our client's trust.
Experience
We've been in the business for over 20 years and we know the ins and outs of migration law. We spot difficulties before they happen. We see beyond your current application. We plan for your future.
Our team knows that whilst the focus is on the current visa, we need to have a view on your future here. We plan ahead from the very first consultation to reduce your worry and keep your journey as linear as possible. Still studying? We'll advise you of all your visa options once you graduate, and talk about pathways to permanent residency. Applying for a 489 visa? We're already planning for your permanent 887 visa. Having been in the business since 1998, we have seen many of our clients from their early, temporary visas, through to permanent residency and citizenship, and have gone on to manage their partners and family's visas. We have similarly managed business clients and helped them attain successful 457, ENS and RSMS applications for their employees through the years and through the constant changes in regulations. We are there from start to finish, no matter how long it takes. (Please note that the Temporary Work (Skilled) visa (subclass 457) has been replaced by the Temporary Skill Shortage (TSS) visa (subclass 482 visa effective 18 March 2018)
We won't dive into your chosen visa option without completely assessing your circumstances. We won't tell you to go for a two year Temporary Skill Shortage (TSS) visa which has no option to turn into a permanent visa, in knowing that you are looking to become a permanent resident. We know the regulations intimately and spot problems way before they happen. We always have our ears open for changes in regulations so that our advice is always accurate and up to date. Your best interests are in our best interests, and we exhaust all options in getting you to your end goal.
Our experience isn't just in visa applications, we also look after skills assessments, State and RCB applications, and appeals too. In a tough spot? Need work rights? Unlawful? We can help.
We don't believe in that depth of knowledge to ourselves either. We share our expertise in migration laws through our bi weekly production; immiNews. Complicated cases sometimes turn into case studies to help the public.
Results
Over 20,000 visa grants and counting. Our team has an AAT application success rate is 80%, when only 30% of all applications get remitted from AAT. We get it done and we get it done right. Having processed over 50 different types of visas, there is barely any visa that we have not managed an application for. Our immiNews publication has a following of over 10,000 subscribers.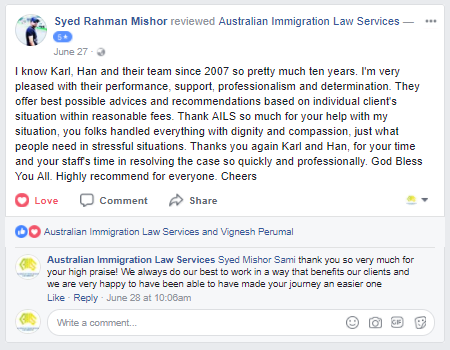 Our ability to find success for our clients comes from a combination of hard work, knowledge and experience, skills, and being willing to think outside the box but within the boundaries of the law. We do that with passion.